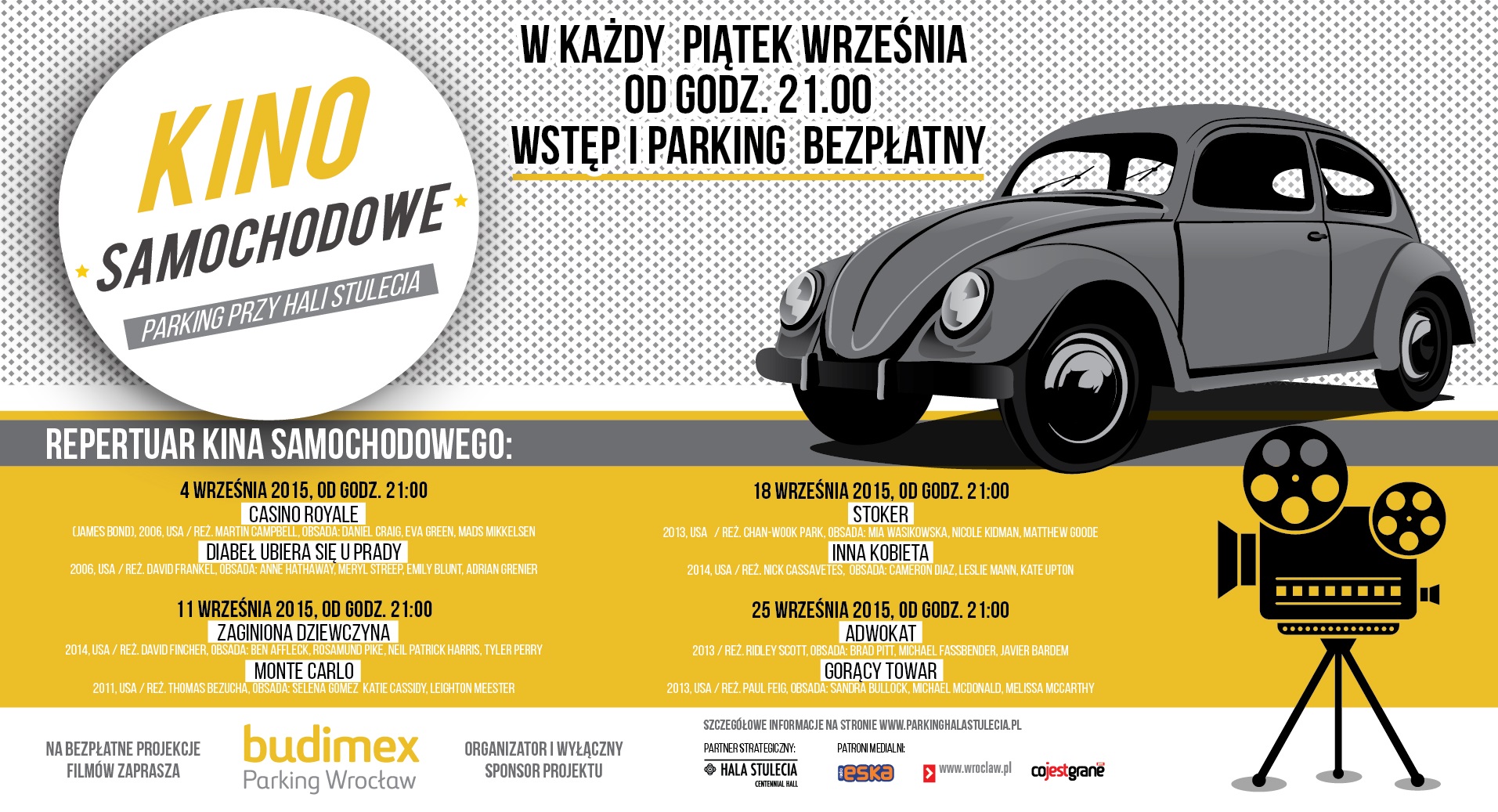 A huge screen, lots of cars and movie hits – we are starting a new car cinema project at the car park near Centennial Hall. Every  Friday in Semptember after 9:00 pm there will be free film shows. The organizer is Budimex Parking company.
"Umówiłem się z nią na dziewiątą" – free film shows  every Friday starting at 9:00 pm.
September evenings at the car park next to the Centennial Hall will be an unforgetful occasion for amateurs, devotees and experts in world's cinema movies. Every September's Friday at 9:00 pm you will have the opportunity to see movies on a giant screen, movies from international festivals, which have been repeatedly nominated in multiple categories for many awards and gained recognition of many viewers all around the world. At the parking area there will be dozens of free sites dedicated to cars and and an open-space auditorium for more than a hundred spectators. At the breaks between movies there will be a possibility of using a separate catering area and eating something delicious in mobile restaurants, commonly known as "food-trucks". Everyone who comes to this special Friday event will receive a small gift for his/her car from the organizer.
Film stars on the big screen under the stars.
The repertoire of the car cinema at the car park next to the Centennial Hall  will include be stars of world's format. You will see, among others, Meryl Streep in the film "The Devil Wears Prada", Daniel Craig as James Bond in a  blockbuster "Casino Royale", Ben Affleck in an adaptation of a novel "Gone Girl", or Cameron Diaz in the comedy "The Other Woman".These are only a few of all the propositions which will  ensure all spectators exciting action movies and a dose of positive energy and humor before beginning of the weekend.